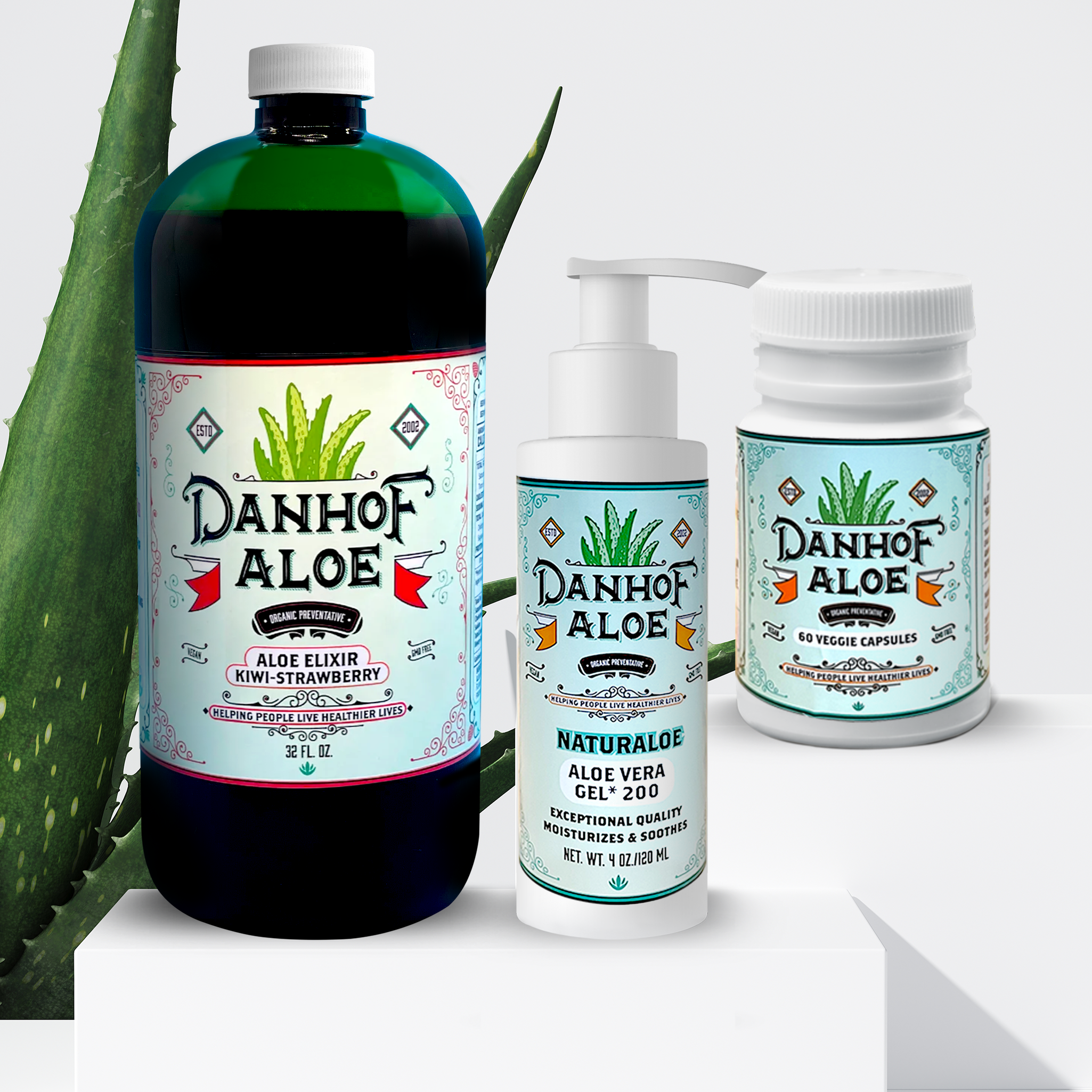 Danhof Aloe Head To Toe Bundle (Get All 3 Products)
$50.00
Regular price
$60.00
off
Description
Suggested Use
Ingredients
Buy the Head To Toe Bundle and save up to 17%
What's Included: 1 Danhof Aloe Vera Gel, 1 Danhof Aloe Veggie Caps, and your choice of either 1 Danhof Aloe Elixir Original Flavor or Danhof Aloe Kiwi-Strawberry Flavor. Make sure to select your flavor of drink before you add it to your cart.

Skin Recovery and Protection
The Danhof Aloe Gel is a high-grade, organic skin recovery and protection product. This product helps soothe and hydrate the skin and is made using reverse osmosis, so you receive double the aloe strength per use.

Immune Defense & Total Body Health
The Danhof Aloe Veggie Caps are high-grade, organic additive for immune defense and total body health. This product helps enhances natural resistance and builds immunity to provide the body protection and helps achieve total body health.

Digestive Health and Wellness
The Danhof Aloe Elixir is a concentrated, organic, high-grade Aloe Vera additive for digestive health and wellness. This product helps with metabolic support, assistance in controlling type II diabetes, and support for any gastrointestinal issues like ulcers, IBS, GERD, inflammation, and constipation.


*These statements have not been evaluated by the Food and Drug Administration. These products are not intended to diagnose, treat, cure or prevent any disease. Benefits vary by product. Caution: if you are nursing or pregnant, consult a health care professional before taking this product. Keep out of reach of children.
Danhof Aloe Vera Gel Suggested Use:
Using a gentle circular motion, apply a small amount of Danhof Aloe Vera Gel 200 to affected or desired areas. Continue with gentle rubbing until the surface is smooth. Repeat with a second application for optimum benefits. Additional applications may be made often as desired based on the skin's condition.
CAUTION: Do not apply to deep punctures or large open wounds without the approval of your physician.
Danhof Aloe Veggie Caps Suggested Use:
Take 2 capsules daily.
Serving Size: 2 capsules Aloe Vera Whole Leaf 400MG *daily value not established
Danhof Aloe Elixir Suggested Use:
1 oz. can be taken alone or mixed with other beverages twice daily 30 minutes before a meal. Once opened, we recommend keeping the Danhof Aloe Elixir refrigerated in order to extend its shelf life of quality, freshness, and taste.
Danhof Aloe Vera Gel Ingredients:
Aloe Barbadensis Leaf Juice, Water, Xanthan Gum, Potassium Carbonate, Sodium Benzoate, Essential Citrus Oils for fragrance.

Danhof Aloe Veggie Caps Ingredients:
Total process lyophilized aloe vera (400MG)

Danhof Aloe Elixir Original Flavor Ingredients:
Aloe Barbadensis Juice, Water, Potassium Carbonate, Sodium Benzoate (to preserve freshness)

Danhof Aloe Elixir Kiwi-Strawberry Flavor Ingredients:
Aloe Barbadensis Juice, Water, Natural & Artificial Flavor Potassium Sorbate, Sodium Benzoate (To Preserve Freshness) Contains No Fruit Juice"
Danhof Aloe Head To Toe Bundle (Get All 3 Products)
$50.00
Regular price
$60.00
Amazing products!
I absolutely love these products. The elixir taste great and goes down smoothly. The gel makes me feel smooth, and my skin loves it! And the capsules are a great add on to my health regimen. Thank you for creating such amazing products!
High Quality Product
I love these products! Highest quality I have come across. I will be ordering again!
Long Time User Tremndous Help
I have been using the Danhof gel and drinks for several years and referred family and friends. The gel works wonders on my skin. The drink has helped my digestive system tremendously and has also completely cured my acid reflux. I highly recommend the products.
FAQ
Why is Danhof Aloe better?
Danhof Aloe is developed using a specific process that is unique, and who developed those processes? Dr. Danhof developed the "totaloe" process, which is used to create our elixir and gel. Dr. Danhof also determined that one of the best ways to protect the aloe polysaccharides is to expose the materials to cold and vacuum, a process called lyophilization-freeze--drying. This is the ideal mechanism for preventing any change in these naturally-occurring polysaccharides.
Dr. Danhof's research spanned over 30 years; in fact, he was referred to as the "Father of Aloe Vera." His trailblazing work with the Aloe vera plant laid the foundation for future discoveries that have benefitted many millions of people around the world who use Aloe vera products. Dr. Danhof remained a very humble man. he was once asked how he felt that many in the Aloe industry were calling him the "Father of Aloe." He replied, "I really wish they'd stop saying that; God is the father of Aloe, not me."
Why should I take Aloe Vera?
Aloe Vera contains over 200 biologically-active components like polysaccharides, vitamins, enzymes, and minerals; we call these "solids." The plant itself is 95% water, and the other 5% comprises these "solids." The polysaccharides in aloe vera are the components that have demonstrated the most significant beneficial effects on our bodies. In other words, polysaccharides rule.

So let's talk about polysaccharides. They are of different lengths and are categorized as small chain, medium chain, large chain, and very large chain. Let's use an analogy to help this make more sense. Think of them as "necklaces"; we have small, medium, long, and very long necklaces. Each of these "necklaces" can be "worn" to impact different problems or diseases. Diabetes is a disease that benefits from the small chain "necklace." Various issues and illnesses wear medium-length "necklaces" because medium necklaces have antioxidant properties which fight against the formation of severe conditions. Large necklaces are worn for issues like infection, inflammation, and depressed immunity by providing anti-inflammatory, antibacterial and immune-boosting properties.
Do I need to refrigerate any of the Aloe products?
Danhof Aloe Elixir: Dr. Danhof recommended taking 1 ounce of Danhof Aloe Elixir 15 minutes before meal time. This will ensure a proper protective coating of the esophagus, stomach, and intestines, as well as initiate the absorption of the aloe into the body.
Danhof Aloe Veggie Caps: Dr. Danhof recommended taking two Danhof Aloe capsules per day, typically in the morning. However, taking three to four capsules daily is perfectly fine.
Danhof Aloe Gel: Dr. Danhof recommended using the gel as needed to provide relief for sunburns, insect bites, scars, age spots, or other irritations. Dr. Danhof used to show people the top of his hands as a conversation starter. For many years, Dr. Danhof had been applying Aloe gel to one hand, but not the other – to illustrate the anti-aging effects of Aloe on the skin. And the difference was quite striking with the Aloe hand looking much more youthful!
What is Dr. D's Aloe Club?
Dr. D's Aloe club is our rewards system. You can join by clicking on rewards in the lower left corner of your screen, this is a seperate sign up from creating an account and ordering our product. You will receive points for:
Signup (200 points)
Placing an order (2 points for every $1 spent)
Share on Facebook (50 points)
Follow on Instagram (50 points)
Like on Facebook (50 points)
Celebrate a birthday (500 points)
You can redeem these points by logging into your rewards account, you will be provided a promo code to use at checkout. 300 points = $1
*Wholesale purchases are not eligible for Dr. D's Aloe Club
Do I need to refrigerate any of the Aloe products?
Once opened, we recommend keeping the Danhof Aloe Elixir refrigerated in order to extend its shelf life of quality, freshness, and taste. The other products do not need to be refrigerated.
Shipping
Shipping
You have the option to choose to ship via USPS or UPS. The shipping rate depends on the package's weight and the receiver's location. Each elixir (32oz.) weighs approximately 2 ½ pounds. Each gel (4oz) weighs 6 oz. Each capsule (400mg 60 counts) weighs 2 oz. Shipping is calculated at checkout via the provider chosen.
Tracking
You will be notified via email and/or text message so you can easily track your package using the tracking number provided.
Support
For questions and concerns regarding your shipment and the order received, talk to us via email at info@danhofaloe.com. A customer service representative is ready to help you.